Celebrity Salute Archives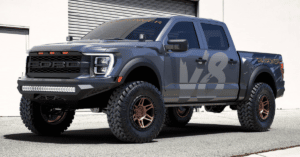 We welcome back Ford Brand Manager Brian Bell to talk about the INCREDIBLE looking (and sounding) Ford F-150 Raptor R! Randy and Brian discuss this brand new 700 horsepower, V8 Shelby workhorse, and how Ford went through the process of listening to their customers and improved upon the already impressive Raptor package.
Listen Now »
To inform, entertain, and honor our active-duty military, veterans, and those who support them.