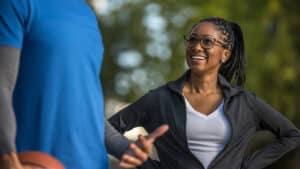 VSP Vision provides eye health and eye care services to those who need it most. VSP Vision Care offers comprehensive coverage to retired members of the uniformed services and their families, as well as family members of active-duty service members. In addition, through multiple Eyes of Hope initiatives, we partner with charitable organizations throughout the U.S. to provide free eye exams and eyewear for veterans in need.
Vision Benefits Your Eyes Will Love
As a VSP Vision member through the Federal Employees Dental and Vision Insurance Program (FEDVIP), you'll get great value, personalized care, and the choices you deserve.
See Well and Stay Healthy
It's important to see an eye doctor every year for an eye exam. Eye exams ensure you can see clearly and may detect early signs of serious health conditions including diabetes, high blood pressure, autoimmune diseases, and certain types of cancers.
Make eye health a priority for everyone in your family! Get an eye exam, and maximize your coverage with a VSP network doctor — no referral required. Even better, look for a Premier Program location, which offers a $0 exam copay. If you've recently moved or are TDY, don't let that keep you from getting an eye exam. And if you're stateside, there's an average of five VSP network doctors within six miles of you, so it's easy to find one nearby and in-network.
BONUS! Scroll down to hear 60-second tips from VSP network doctors!
Save Money and Look Great
As a member, you'll also enjoy quality eyewear and the affordability you deserve. 
With hundreds of classic styles, designer frames, and contacts to choose from, you can find durable and dependable eyewear to fit your lifestyle and budget. Find a wider selection of frame brands and maximize your benefits with savings like a higher frame allowance at a Premier Program location. 
Prefer to shop online? Explore the latest trends and easily apply your benefits at eyeconic.com®.  Overseas? The FEDVIP plan has a great reimbursement rate. Because VSP is a not-for-profit vision care company, you'll get access to high-quality care from a VSP network doctor and low out-of-pocket costs.
Interested in enrolling? Visit benefeds.com or call 1-877-888-FEDS (3337) for information regarding eligibility and how to enroll.
Click on a link below to hear a 60-second eye care tips from a VSP Network doctor!
To inform, entertain, and honor our active-duty military, veterans, and those who support them.